Principal's Corner Archive
December 2016
Dear NYOS Community,
Welcome to the Elementary Principal's Corner. Over my past nine years as NYOS' Elementary Principal, our team efforts have been centered in building a strong Professional Learning Community focused on continuous school improvement. A large part of this work has been the implementation of Dr. Robert Marzano's High Reliability Schools (HRS) framework. Based on 40 years of educational research, the HRS framework defines five levels of performance in which a school must demonstrate mastery to become certified as a high reliability school.
The HRS Levels are:
Safe and Collaborative Culture- NYOS Certified Spring 2015
Effective Teaching in Every Classroom- NYOS Certified Fall 2015
Guaranteed and Viable Curriculum- NYOS Certified Spring 2016
Standards-Referenced Reporting-NYOS Certified Spring 2016
Competency-Based Education- work in progress
Included in the critical commitments for Level 3 certification is the development of a comprehensive vocabulary program. As part of a recent celebration of our Levels 3 & 4 certification we held a vocabulary parade. With the support of their teachers, students chose words that directly align with the curriculum content they are studying and dressed up as that word. Our parade was fantastic! Here's a photo of the four seasons: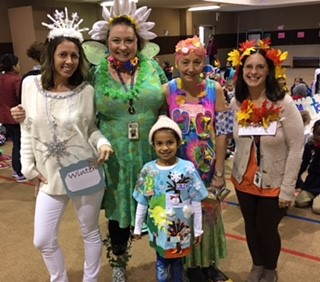 We are currently working on becoming certified at Level 5- Competency Based Education (CBE). Realization of Level 5 certification supports the idea articulated in the NYOS Charter that student demonstration of mastery of the standards and benchmarks will determine movement from one instructional level to the next without regard to traditional units of time or student age. You might find this short video explanation of Competency Based Education helpful. We've begun this work in the area of mathematics and you'll be hearing more about it soon at the mid-year student led conferences on January 20th & 23rd.
As one of seven schools (world-wide) currently certified at Level 4, we are excited to have been invited to present at the HRS Summit once again this year. Having the opportunity to showcase the great work we have happening at NYOS is a privilege and honor!
Sincerely,
Terry Berkenhoff
Elementary Principal
NYOS Charter School
---
January 2017
Dear NYOS Community,
I hope the new year is off to a great start for you and your family. We certainly have had a good start to 2017 at NYOS!
January is a very busy month and I'd like to showcase several opportunities for you to add to your calendar. Friday, January 20th and Monday, January 23rd elementary mid-year conferences will be held. Students and teachers are busy preparing to share updates on student progress. Please contact your child's teacher if you have not yet signed up. We encourage 100% participation in these important meetings. Also, just a friendly reminder that elementary students will be dismissed at 12:35 PM on Monday, January 23rd.
Our fabulous NYOS PTA is busy planning many events to support our school. The next general PTA meeting will be held on Saturday, January 28th from 11AM- 1PM at the Lamar campus. The meeting promises to be great fun as it will be a Chili potluck. Please check the NYOS Charter School PTA Facebook page for more details.
As usual, our unpredictable Texas weather has given us warm and cold temperatures all within a matter of days. Please write your child's name on their coats and jackets. We always seem to have many unclaimed items that make their way to the lost and found bin. Labels will help us to return them to the correct owner. It is likely those jackets and coats will be needed again before we call winter done.
Thanks for all you do in support of our school. I look forward to seeing you soon!
Sincerely,
Terry Berkenhoff
Elementary Principal
---
March 2017
Dear NYOS Families,
Spring has arrived! At NYOS we promote healthy, active habits and with the beautiful weather we've been enjoying, students have been able to fully enjoy their two recess periods each day. They've also been busy planting and harvesting in our school garden. Ms. Erhart's Kindergarten class recently harvested carrots and onions they grew and graphed the different colors of carrots. What a terrific example of linking the curriculum to real world experiences.
A great spring tradition returns on April 6th- Elementary Field Day! Our fabulous Specials Team is hard at work planning for a spectacular day of fun. Thanks to all who have volunteered to assist as this treasured event could not happen without your support. I'd like to give special appreciations to Frost Bank for their continued support with their sponsorship of the Kona Ice truck for Field Day refreshments. Needless to say, this is a super "cool" treat our students really enjoy!
I am happy to share that we've been invited to participate once again in this year's North by North Austin Garden & Artist Tour on May 13th. Appreciations to Leslie White, NYOS parent, for volunteering to spearhead the work we'll do to prepare for this community event. If you would like to help, please let us know. For more info see NxNA Garden & Artist Tour.
It is hard to believe that we are heading into spring break soon. I hope that you'll find time to enjoy time with your children and that they return to school rested and ready for a great fourth quarter.
Thanks for all you do in support of our school. I look forward to seeing you soon!
Sincerely,
Terry Berkenhoff
Elementary Principal
Summer 2017
Dear NYOS Families,
It's hard to believe another school year has come to an end. With the support of our terrific teachers and staff, students have worked hard to achieve their goals. We celebrate our fifth grade students who are looking forward with great anticipation to entering Middle School, and give special recognition to our graduating Seniors. Congratulations Class of 2017! We celebrate your success and wish you all the best!
Over the summer months the NYOS Boys & Girls Club will be held at the Kramer campus. If you would like more information about participating in this opportunity, please contact Jayme Johnson at jayme.johnson@bgcaustin.org. The camp begins on June 6th and will include daily breakfast, lunch, and weekly field trips are planned.
You are also cordially invited to lend a hand with caring for our Kramer garden over the summer months. It is blooming and producing delicious vegetables thanks to the leadership of volunteer Leslie White and many other NYOS community members. We would like to give a special shout out of appreciation to Whittlesey's Landscape Supplies for their recent very generous donation of mulch. The plants seem to love it! While there, don't miss the new mural that has been added to our playground area. Here's a sneak peek:
With endings come new beginnings. The 2017-2018 school year will begin on July 20th with Elementary Meet the Teacher morning from 7:30-9:00 a.m. at both campuses. Please mark your calendars as we all look forward to seeing students after the summer break—especially our new Pre-Kindergarten and Kindergarten students. Please plan to bring your child's school supplies so all is ready for the first day of school on Tuesday, July 25th. There will be opportunities to join the NYOS PTA, participate in the uniform exchange, greet old friends, and meet new ones. I look forward to seeing you there!
Wishing you a healthy, restful, fun summer break!
Sincerely,
Terry Berkenhoff
Elementary Principal
---
Fall 2017
Dear NYOS Families,
The second quarter of the school year is off to a great start and going by quickly. Please mark your calendars for these opportunities coming up soon: Elementary "Parent University" Night on November 7th, our annual Thanksgiving luncheon at both campuses on November 16th, and the Family Literacy Night and Vocabulary Parade on November 30th.
In this season of giving thanks, I would like to express my appreciation to all who volunteer time and talents to help our school. A parent recently volunteered to train our staff in First Aid & CPR, and another gives her time and skills to keep our Kramer gardens looking beautiful.
These are just a few examples of the very many ways we can use your support.
If you are unsure how to volunteer your time, talents, or skills, please contact me for ideas. Your help will be greatly appreciated!
Sincerely,
Terry Berkenhoff
Elementary Principal
January 2018
Dear NYOS Community,
Happy 2018! It's hard to believe half the school year is over…I guess it's true what they say about time flying when you're having fun!
This quarter is very busy and we hope you'll plan to attend several events coming up soon. On Tuesday, January 23rd the NYOS PTA meeting will be held in the Kramer gymnasium beginning at 6:00 PM. The PTA is providing pizza and drinks for your dining pleasure and families are invited to bring salads and desserts to share. Click here to sign up. There are also spots available to sign up to donate replacement playground equipment and school supplies if you are able. At NYOS we believe healthy habits and physical activity promotes strong academic performance so our students enjoy two recess periods each day. With all that fun, our playground equipment tends to need replacing from time to time. We appreciate your help with this donation drive!
Mark your calendar for the annual elementary STEM Fair scheduled for February 1st at the Kramer gymnasium from 6-7 PM. There will be student and classroom projects, interactive activities from each grade level, Mad Science of Austin, our NYOS IT Department, and many more! We hope you'll plan to attend!
Thanks for all you do in support of our school. Our team works hard each and every day to ensure your child has the best educational experience we can provide. As one of our Kindergarten students expressed so well in his New Year's Resolution- We always try our best!
I look forward to seeing you soon!
Sincerely,
Terry Berkenhoff
Elementary Principal